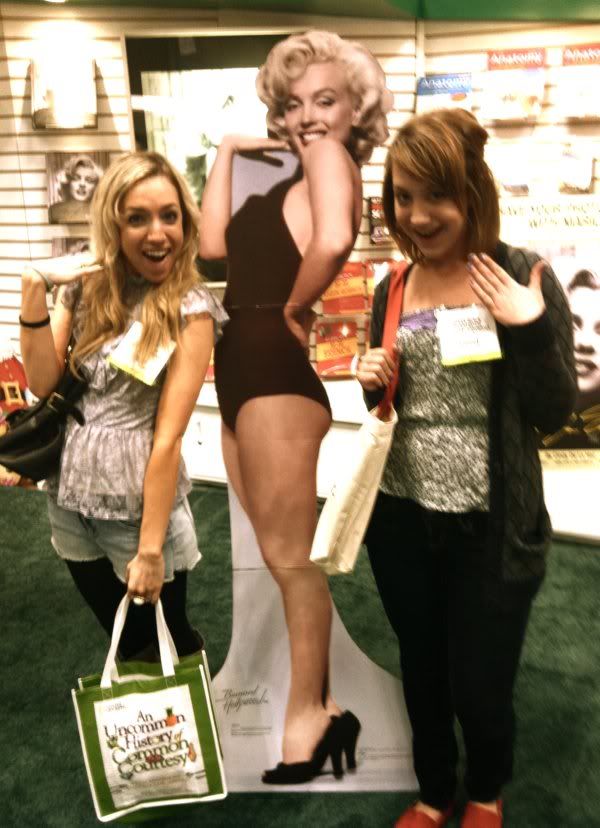 I'm baaaack! Do I have a legitimate excuse for my much-too-long absence from the blogging world? Not exactly, and therefore I apologize. Although I have been more actively social as of late, I still owe a little time to the blogging community so I promise I will try to be more active on here. I just got back from my favorite city in the world and future home New York City and of course the time went by way too fast. Here are a few highlights:
1.) Going to the Alexander McQueen Savage Beauty exhibit at the Metropolitan Museum of Art. Best. Exhibit. Ever. No words can describe the incredible way the genius artist was represented there. It was no wonder we had to wait in line for an hour to see it.
2.) Seeing Chicago on Broadway even though Christie Brinkley should never be casted on Broadway especially in a leading role. Seriously, just take my word for it. Still, the experience was awesome and the show was incredibly entertaining.
3.) Going to the Book Expo of America and taking two hours to make the complete rounds, collecting candy and free stuff at countless booths. Aaand meeting Florence Henderson who is Carol Brady from The Brady Bunch who was there promoting her book! My mom grew up on that show so it was especially exciting for her.
4.) Going to the raw food restaurant called Pure Food, a celeb hot spot that my dad discovered a couple trips ago and has been wanting us to try ever since. I know, you'd think it wouldn't be good but it was actually incredibly tasty! The pic above is their signature dish raw lasagna but my favorite by far were their desserts. You would never think they're raw and sweetened with agave! Still don't believe me? You might just have to go to be convinced.
5.) Having movie references for almost every place we visited. New York is a movie buff's dream city.
6.) Going to the Audie Awards, the audio book equivalent of the Academy Awards and pretending I was Serena van der Woodsen for a night. An excuse to dress up, eat lots of good food, drink champagne, and almost pee my pants laughing at the hilarious host this year? Yes please. The stressful time I had getting ready ended up being completely worth it. (I curse false eyelashes and dresses you have to pull over your head!)
7.) Going to our favorite tea spot Alice's Tea Cup as our last stop before we had to leave. The place is adorable and completely Alice in Wonderland themed and has scones to die for.
The lowlight? Saying goodbye to my future home. Until next time NYC!