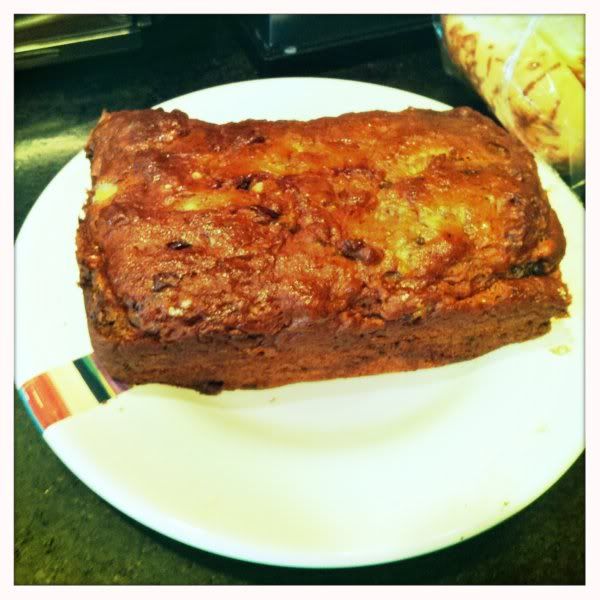 It's about time I posted a recipe. Banana bread has always been one of my favorite things in the whole world. Nothing beats waking up in the morning to the haunting smell of delicious banana bread hot out of the oven....well, except for actually eating it of course. My mom knows my faithful love to banana bread and bakes it for me every birthday morning. I still think that my mom's good old recipe is the best, but lately I've been exploring all the healthy gluten free/vegan versions I can make of my favorite treats. Thank goodness for
Babycakes
who changed my world and my sister Chelsea's who has a severe gluten allergy. I stole Chelsea's Babycakes cookbook the last time I was at her place and have been having fun with it ever since. Chels, you'll thank me later when I make you some delicious treats next time you come! Here is the banana chocolate chip bread recipe straight out of the book but with a few minor adjustments. I've found that Babycakes calls for more oil and sweetener than necessary. In fact, whenever I use as much coconut oil as they call for the baked good ends up being too oily and takes too long to bake. I used a little over half the amount of oil and sweetener they called for and still had to bake it longer than the recipe called for and in my opinion, it came out perfect.
Ingredients:
2 cups Bob's Red Mill gluten free all-purpose baking flour
2 teaspoons baking powder
2 teaspoons baking soda
1 teaspoon xanthan gum
1 teaspoon salt
1 teaspoon ground cinnamon
about 1/3 cup coconut oil (you could even put in 1/4 and feel it out from there)
1/3 cup agave nectar + 2 or 3 tablespoons of agave or honey (I added a bit of honey because we ran out of agave)
2/3 cup rice or almond milk (I used unsweetened vanilla almond milk)
1 teaspoon pure vanilla extract
1 1/2 cups mashed bananas
about 1/4-1/2 cup chocolate chips (I use the grain sweetened kind)
Preheat the oven to 325 degrees. Lightly grease a 7 x 4 x 3-inch loaf pan with oil.
In a medium bowl, wisk together the flour, baking powder, baking soda, xanthan gum, salt, and cinnamon. Add the coconut oil, agave nectar, rice milk, and vanilla to the dry ingredients. Stir until the batter is smooth. Using a plastic spatula, gently fold in the bananas until they are evenly distributed throughout the batter. Add the chocolate chips and fold them in. I just poured straight out of the back so feel free to add your own desired amount.
Fill the prepared pan halfway with the batter. Bake the banana bread on center rack for 35-50 minutes. I say this because the recipe calls for 35 but my oven might be cooler because I had to bake it for 15 minutes longer and it came out perfect after 50 minutes. Rotate the pan 180 degrees after 20 minutes and periodically check on it if it's not done after 35. The finished loaf will bounce back slightly when pressed, and a toothpick or knife inserted in the center will come out clean.
Let the banana bread stand in the pan for 20 minutes. Gently run a knife around the edge of the cake, cover the top of the pan with a cutting board, and invert the loaf onto the bread. Carefully lift the pan away and re-invert the bread onto another cutting board. Either cut and serve warm, or wait until completely cool before storing. Cover the uncut banana bread with plastic wrap and store at room temp for up to 3 days....or freeze for up to eternity! Ok, maybe not that long but it'll hold in the freezer for a while if you don't trust yourself not to eat it all in one sitting if you keep it out.
In case you're wondering, it turned out to be quite a hit with even the non-healthy eaters (unless, of course they're lying to me which I highly doubt because I consider myself a banana bread connoisseur and my own worst critic and am quite happy with the result). Enjoy!